Meet a Good Alternative to X-folders – Commander One
What Is X-Folders?
All Apple's devices come with a selection of Apple software preinstalled. This software has been specifically designed for Apple devices, and their default file manager for Mac is Finder. Finder is a straightforward way of moving files from one place to another, creating libraries, and generally keeping everything on your Mac in order.
However, many users found the Finder lacked the advanced usability they wanted from a file management system, and wanted to explore how to manage files on Mac with different programs. As a result, X-Folders was created as an alternative to Finder. X-Folders is a third party file manager Mac users can use, that allows you to manage your files. It offers more complex tools than the Finder Mac OS X file manager, as well as a range of other features designed for the needs of Mac users.
Does X-Folders Still Work?
Unfortunately, while you may still be able to find X-Folders file management Mac downloads, the actual program itself is basically no longer in existence. If you look for a website, you won't be able to find one. On top of that, as the company is no longer in operation, even if you find a download, it will be from all the way back in 2009. That means that it will almost certainly no longer be compatible with your current operating system.
On top of that, even if by some miracle it runs, you'll be unable to download any updates or access any kind of help from the company. This means you need to look at alternative Mac file managers.
Commander One Is the Best Alternative to X-Folders
Fortunately, even though X-Folders is no longer available, there's another great third party file manager for Mac that can solve your file management issues. This is the OS X file manager that we would choose ahead of all other options. Commander One has been designed to address all the Finder issues that X-Folders dealt with, plus providing you with a whole host of extra tools and features.
Commander One makes use of the classic dual-pane format to make file management as quick and easy as possible. It's been coded entirely in Swift, and is 100% customised to the latest Mac operating systems. Plus, Commander One is available in both free and paid version, meaning that you can make use of this advanced file manager even if you don't plan on investing for the full package.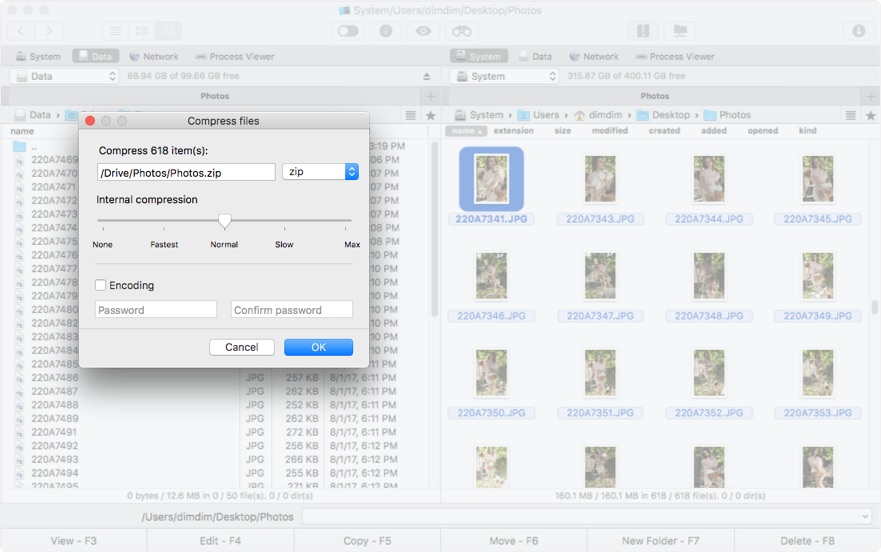 Pros:
File management - Commander One file manager for Mac provides you with all the file management features you'd expect from such a program. Moving files around is straightforward, especially due to the dual-pane system. It takes seconds to create folders, rename, copy, delete, and all the other standard functions provided for managing your files.
Multi-tab browsing - this feature makes it especially easy for you to manage files across different folders at the same time. Multi-tab browsing lets you open up multiple different folders at once, meaning that you can easily check their contents, and quickly move files between them.
Hotkeys setup - by allocating functions to certain keys, you can make Mac file management even easier. You can customise the functions to your liking, creating a personalised system that is streamlined to your needs. As a result, it takes just seconds to carry out the management processes you need to.
ZIP support - this is one of the features that really makes Commander One stand out from the Mac file browser competition. Most file management systems come with some form of ZIP support, a crucial function for organising your data. ZIP allows you to compress data, making it far easier to store. As a result, you can move large amounts of data online or via external devices, since all the information has been reduced to a smaller size.

The Commander One MacOS file manager goes one step further. Conventional ZIP functions only allow you to compress and extract. Commander One lets you actually change the contents of a compressed folder, without having to extract everything and then recompress. This is especially useful for anyone who often handles compressed folders, and needs to quickly change their contents without going through extra time-consuming steps.
Brief mode - this feature has been designed to let you cycle through many different folders and files quickly. Rather than having to take your time, brief mode streamlines the process, making it easy for you to quickly get to what you're looking for. A must for anyone handling large amounts of data or content.
PRO Pack benefits - the Mac OS file manager PRO edition is available to paying customers, and offers a whole host of extra features. First off all, it provides you with an FTP client. This function allows you to directly connect to other devices online, making it easy and fast to move files between the two devices. Then, there's the ability to mount MTP and iOS devices. This means that you create a direct connection, via USB, with one of your other devices.

As a result, you can manage content directly on the devices, and move files between it and your Mac. PRO also offers Dropbox integration. That means that you can connect to Dropbox for quick transfer of files from your device to an online cloud. Commander One OS X file manager will also be able to support RAR, TBZ, TGZ, 7z formats, letting you make use of a wide range of different files.
Cons:
It's great that you can make use of Commander One Mac file manager for free. However, as we've pointed out, you'll need to invest in the paid edition if you want to enjoy all of the above features. That said, it's available at a very low price, and well worth the investment.
Some users reported earlier issues with the FTP client manager. However, thankfully these problems seem to have been solved. Commander One is regularly updated, ensuring that all issues are quickly dealt with, and the FTP problem is now a thing of the past.
Conclusion
It's easy to see why X-Folders was such a popular Mac file management software choice. The program offered a range of useful features that were missing from Apple's Finder, and it was a great file manager while it lasted. However, today X-Folders is no longer a viable option. Since the company effectively no longer exists, it's well worth your while checking out Commander One.
This program does everything that X-Folders did, and more. There's a huge range of useful tools, particularly the enhanced ZIP function, that set it out from the competition. And considering that it's available in both free and paid mode, there's no reason why you shouldn't try it out and see what's on offer. For our money, it's the best alternative to X-Folders on the market.
Frequently asked questions